Andrea Pestarino
RINA Consulting
Andrea Pestarino got his master degree in Mechanical Engineering in 2004, with a specialization in machinery and control systems. He specialized in Digital Technologies for Energy and he is now the Director of the Donors Financial Institutions Unit. For +10 years he was responsible in RINA of the Research and Development Team dedicated to Energy. Thanks to this experience, mainly carried on within EU Commission's programmes (FP6, FP7, H2020, Horizon Europe), he had the chance to develop, test and integrate with industrial partners and major energy stakeholders some key emerging technologies in the field of renewables, alternative fuels, automation and environmental technologies.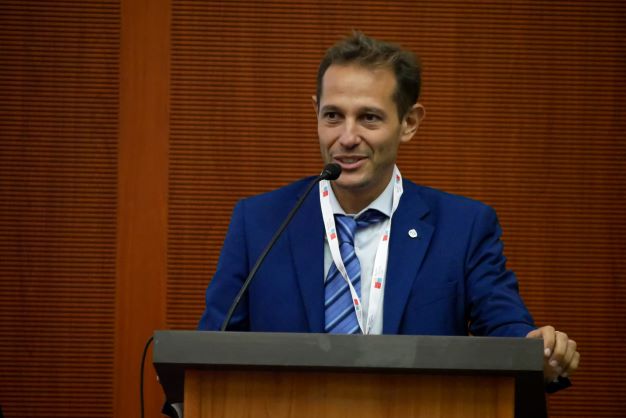 European project ENGIMMONIA - project presentation
The 2018 directive of the International Maritime Organisation – IMO – aimed to reach the 50% reduction of greenhouse gas – GHG – emissions due to international maritime transport by the 2050, pushed the shipping sector to study practical innovative solutions.
The ENGIMMONIA project develops a strategy to decarbonise the maritime transport promoting the use of ammonia as an alternative fuel and the on-board exploitation of clean energy technologies already available for terrestrial applications. ENGIMMONIA would adapt sustainable energy (photovoltaic) and waste recovery solutions on-board to avoid uncontrolled pollutants dispersion.
Demonstrators of the project will b e three pilot vessels: an oil tanker, a ferry and a container ship.
Thanks to its demonstration campaign on-board of three different types of vessels (a ferry, an oil
tanker, a container ship), ENGIMMONIA represents a revolutionary road to clean energy for shipping,
bringing technologies from TRL 4 up to 6/7, thus favouring their future take over thanks to the
proactive engagement of shipping companies and vessel owners, the preparation of regulatory/
policy certification authorities and studying how to adapt EU port infrastructure.